529 Tips
3 Reasons To Stash Your Cash In A 529 Instead Of A Regular Savings Account
When it comes to saving for a higher education, you have many options. The best one is the tax-advantaged 529 college savings plan. It might feel easier to stick with something you're familiar - like a regular savings account — but you will missing out on the many advantages of a 529 plan.
What are the advantages of an Ohio 529 college savings plan? Let's start with the tax benefits.
Ohio 529 Tax Advantages vs. Regular Savings Account
First, all earnings in a 529 plan are tax-free, so all investment growth is yours to cover higher education costs. Compound interest — the interest earned on contributions, earnings, and interest already accumulated in the 529 account — is included in those tax-free earnings. To see just how tax-free growth adds up with a 529 savings plan, use the tax benefit tool to see the difference between a 529 plan account and a taxable savings account.
In addition, 529 plan withdrawals for qualified higher education expenses are tax-free when used at accredited programs nationwide that accept federal financial aid. These post-secondary education institutions include two-year community colleges, four-year colleges and universities as well as graduate or professional schools, vocational or trade schools, and U.S. Labor Department approved apprenticeships.
Lastly, there's a significant tax benefit for any Ohio resident who contributes to an Ohio's 529 Plan account. Whether or not they are the 529 account owner, Ohio residents can deduct their contributions to Ohio's 529 Plan from their taxable state income. The deduction amount is $4,000 per year, per beneficiary, with unlimited carry forward; Ohio one of only two programs nationally that offer this benefit. This means that the $4,000 is not a contribution cap for Ohioans. If an Ohio taxpayer contributes more than $4,000 in one year, they can continue to subtract $4,000 per year, per beneficiary, from their State of Ohio taxable income until all the 529 contributions are deducted.
Ohio 529 Growth Potential vs. Regular Savings Account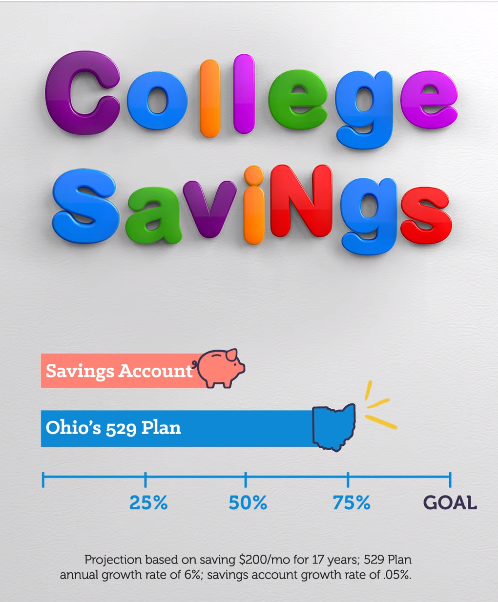 Saving in a 529 plan has more growth potential in the long run than saving in a regular bank savings account.
According to Bankrate, the national average saving account interest rate is 0.07 % as of March 31, 2021.
With Ohio's 529 Plan, you have many investment options to choose from like age-based portfolios, international equity options, U.S. equity options, balanced options with stocks and bonds, fixed-income options, and capital preservation option. If you would still prefer to place you funds in a FDIC-insured savings account, we offer a 529 savings account along with multiple terms of 529 CDs through our banking partner, Fifth Third. You can always view investment performance of the Ohio's 529 Plan portfolios online.
Ohio's 529 Plan remains at the top of the long-term performance ranking from Saving For College, a trusted college-savings industry resource which provides unbiased research on 529 plans, financial aid, scholarships, as well as offers tools to help families estimate higher education expenses. As of March 31, 2021, CollegeAdvantage Direct 529 Plan ranks first in the nation for the best investment performance in the ten-year category. Ohio's Direct Plan also ranks second in the nation in the three-year category, sixth in the nation in the five-year category.
529 Effects On Financial Aid vs. A Regular Savings Account
When filling in the Free Application for Federal Student Aid (FAFSA) form, your Ohio 529 account is considered an asset. When owned by a parent, the 529 plan funds are assessed at a maximum of 5.64% of its value. Therefore, if you, as a parent, have saved $10,000 in Ohio's 529 Plan account, only $564 would counted against your child's potential eligibility for need-based Federal financial aid.
When applying for federal student aid, a student-owned regular savings account will be counted at 20% of that asset will be included in the FAFSA calculations.
What College Costs Can Be Paid With An Ohio 529 plan?
529s are flexible and cover a wide variety of qualified higher education expenses, such as:
Tuition at a four-school college or university, two-year community college, vocational or trade school;
Room and board fees. This also includes off-campus housing, provided these costs are equal or less than the same room and board allowances from the accredited education institution.
Food and meal plans. If your child is living off campus, only non-taxable grocery items can be paid with a 529 plan;
Textbooks, computers and other required course supplies;
Software and digital course materials;
Special needs assistance, including equipment;
Certain costs for U.S. Labor Department approved apprenticeships — such as fees, textbooks, supplies, and equipment like required trade tools;
Any student loan that qualifies for the federal student loan income tax deduction. There is a $10,000 lifetime limit per 529 beneficiary. However, an additional $10,000 can be used to repay qualified student loans for each of the beneficiary's siblings; and
Tuition at a public, private or religious elementary or secondary school. The yearly limit is $10,000.
Visit Ohio's 529 Plan online to start saving today for your child's future education. An investment in a 529 plan is an investment in your child where every dollar saved today is a dollar that doesn't have to be borrowed later. A 529 account can be used for whatever comes after high school. Learn, plan and start an Ohio 529 Plan today at CollegeAdvantage.com.
Posted on June 17, 2021