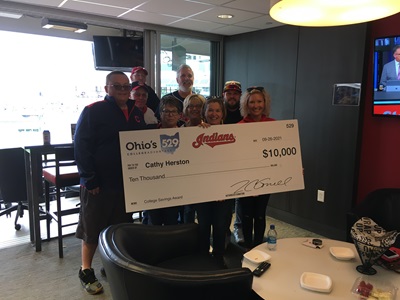 Announcements
Cleveland Indians and Ohio 529 Announces Winners of 2021 Home Run
The Cleveland Indians and Ohio's 529 Plan, CollegeAdvantage, again teamed up in 2021 to help Cleveland-area families hit a home run for their higher education goals.
One lucky Indians fan received a grand prize of a $10,000 college savings award to load the bases for their existing CollegeAdvantage Direct 529 account.
The 2021 Grand-prize winner, Cathy Herston and her family joined Ohio's 529 Plan and the Indians for an award presentation at the Sunday, Sept. 26, 2021, game against the Kansas City Royals. Enjoying the game with Cathy was her husband, Mike; one of her sons, Matt; her sisters Julie Belenski and Carey Watchel. Carey's husband, Ron, and father-in-law, Wayne Watchel, and Julie's daughter, Tara Koontz, also attended the game.
The first, second, and third runners-up each received four tickets each to a 2021 Cleveland Indians Game and an autographed Indians item.
Here's the list of the four Indians fans who were randomly selected as winners:
Grand-prize winner: Cathy Herston
First runner-up: Lauren Fisher
Second runner-up: Tasha Bastian
Third runner-up: Rochelle Kaplow
Congratulations to all our winners! Thank you to everyone who participated! Would you like to win a college savings award for your own CollegeAdvantage 529 Plan? Sign up for email newsletter or visit our blog page for announcements of upcoming giveaways.
Visit Ohio's 529 Plan online to start saving today for your child's future education. An investment in a 529 plan is an investment in your child where every dollar saved today is a dollar that doesn't have to be borrowed later. A 529 account can be used for whatever comes after high school. Learn, plan and start with Ohio's 529 Plan today at CollegeAdvantage.com.
Posted on January 21, 2022