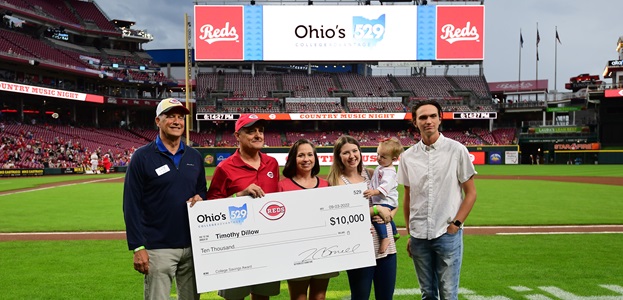 Announcements
Ohio 529 Celebrates 2022 Cincinnati Reds College Savings Grand Slam Winners
The Cincinnati Reds and Ohio's 529 Plan, CollegeAdvantage, teamed up again in 2022 to help Reds fans hit it out of Great American Ball Park for their higher education goals.
One lucky Reds fan received a grand prize of a $10,000 college savings award to load the bases for their Ohio Direct 529 account. The winner, Timothy Dillow, applied the college savings award to his granddaughter's Ohio 529 account.
Timothy, his wife, Mary; and their son, Brandon; daughter-in-law, Andress, and granddaughter, Joanna; and family friends Hanna Irwin and Nick Sentelle joined Ohio's 529 Plan and the Reds for the award presentation for the Saturday, Sept. 4 Colorado Rockies. While the game was postponed, the award presentation didn't miss a beat. The second-place winner, Amanda Moss, and third-place winner, Patrick Burke, also won tickets to this game. Here's a video of the check presentation.
Congratulations to all our winners! Thank you to everyone who participated! Would you like to win a college savings award for your own CollegeAdvantage 529 Plan? Sign up for email newsletter or visit our blog page for announcements of upcoming giveaways.
Visit Ohio's 529 Plan online today to start saving for your child's future education with as little as $25. A 529 account can be used for whatever school comes after high school—including four-year colleges and universities, community colleges, tech, trade or vocational schools, apprenticeships and certificate programs. Learn, plan, and start with Ohio's 529 Plan today at CollegeAdvantage.com.
Posted on September 29, 2022