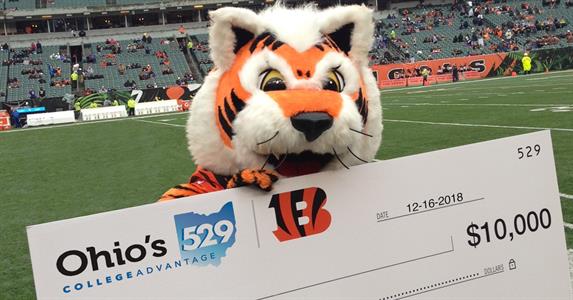 Announcements
Kickoff Your College Savings with the Bengals and Ohio's 529 Plan
The reigning AFC Champion Cincinnati Bengals and Ohio's 529 Plan, CollegeAdvantage, are excited to see Ohio native son Joe Burrow and the Bengals roar this season.
Since 2012, the Bengals and Ohio's 529 Plan, CollegeAdvantage, have teamed up every season to help families kick off their college savings with $10,000 toward their higher education goals. The family can use the college savings award to add to or open a CollegeAdvantage Direct 529 account(s).
The grand-prize winner will receive their $10,000 college savings award before kickoff of the Bengals' Jan. 8, 2023, home game, against the Baltimore Ravens*.
Ten runners-up will win a piece of autographed Bengals memorabilia.
To sign up to win the $10,000 college savings award, you can enter here. You can enter once per day, per e-mail address. This giveaway ends at 11:59 p.m. ET Sunday, Dec. 11, 2022. For complete rules, click here.
Don't wait to enter; the game clock has started for you to score a touchdown for your college savings. We hope to see you at the 50-yard line of Paycor Stadium Sunday, Jan. 8, 2023!
Ohio's 529 Plan is the tax-advantaged way to save for future higher education costs. With tax-free earnings, tax-free withdrawals for qualified expenses, and a $4,000 state income tax deduction for Ohio residents, Ohio's 529 Plan is the smart and simple way to save for the future. 529s can be used at any federally accredited program such as four-year colleges and universities, community colleges, vocational or trade schools, apprenticeships, certificate programs, grad schools, law schools, and medical schools.
If you haven't started saving, visit Ohio's 529 Plan online to start saving today for your child's future education. Every dollar saved today in a 529 plan is a dollar that doesn't have to be borrowed later. A 529 account can be used for whatever comes after high school. Learn, plan, and start an Ohio 529 Plan today at CollegeAdvantage.com.
* If NFL, state or local protocols prevent an in-person event, the presentation will be held at a later day.
Posted on November 21, 2022